Playground
New playground at Ionia's Freedom Acres School includes zipline
9/22/2022
Tim McAllister - The Daily News
https://www.thedailynews.cc/articles/new-playground-at-ionias-freedom-acres-school-includes-zipline/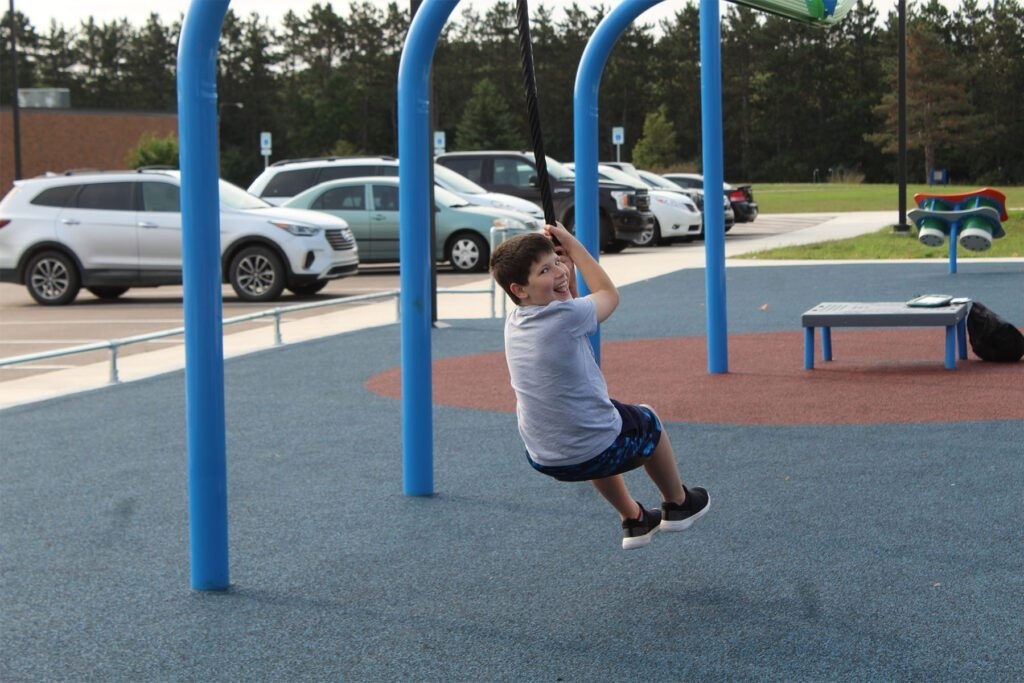 Jeremiah Remington has a great time showing off his mastery of the new zipline on the playground at Freedom Acres School. — DN Photo | Tim McAllister
IONIA — A new adaptive playground at Freedom Acres School is the only one in Ionia County specifically designed so children of all mobility levels can play together with total freedom.
The new equipment at 2191 Harwood Road in Ionia includes swings of various shapes and sizes, a massive jungle gym with ramps, stairs and other methods of getting on top of it, a merry-go-around that spins via a wheel in the middle and sensory features like musical equipment.
The playground's most popular new feature is the zipline.
Ionia County Intermediate School District Superintendent Ethan Ebenstein said a team of occupational therapists, physical therapists and other professionals scouted playgrounds around West Michigan for inclusive ideas to integrate.
"The team really liked Frog Hollow, which is near Metro Health Hospital in Grand Rapids," Ebenstein said. "They had a nice layout with a lot of equipment. They also really liked Huizenga Park in Holland. It's a very large park area, and that's where we saw the zipline, which some of our staff thought was phenomenal and something you wouldn't normally think of on a playground."
"It was a long process, but the finished product is amazing and this playground has brought so much joy to every aspect of this school at every grade level," added Freedom Acres teacher April Cavanaugh.
Calling the playground "adaptive" is a signal indicating it was created to go a step beyond accessible.
"Accessible means your parents can park there and you can get close to your siblings or peers, but it doesn't mean you can get on the equipment, it doesn't mean you can be side by side with a non-disabled peer," explained Angela Miller, principal of Freedom Acres School. "To open up that pathway for our kids, we were very mindful with every piece of equipment. Things were done thoughtfully to bring the two populations together and allow them to play together, because that's what these kids want. Our students are very aware, and they want to play just like any other child at any other local school."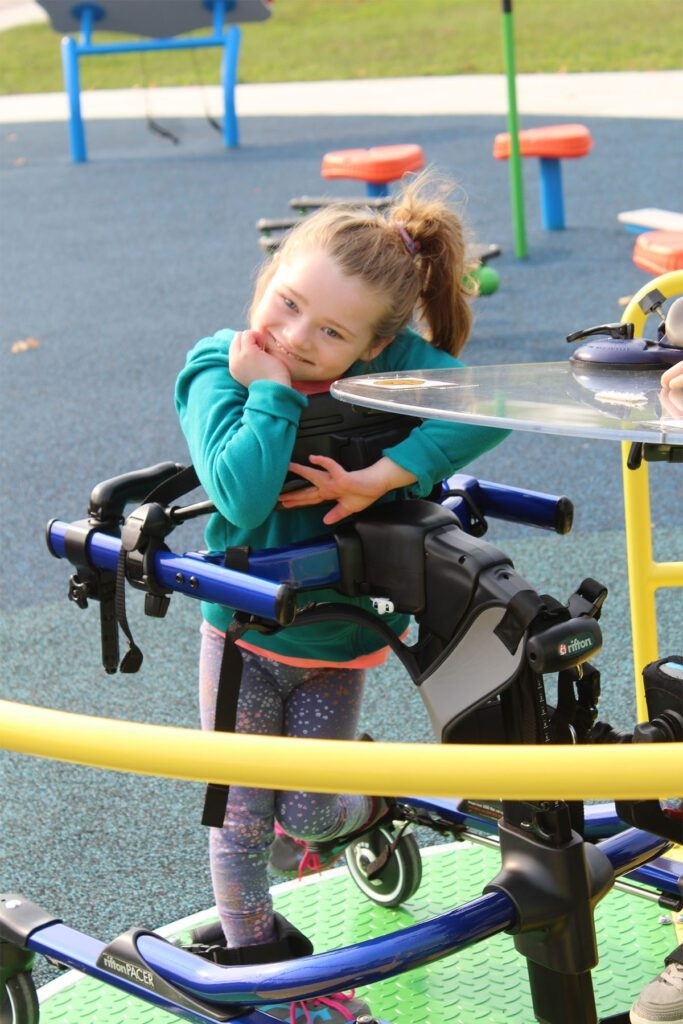 Freedom Acres School student Bella Holzhausen takes a breath while enjoying the school's new merry-go-round. — DN Photo | Tim McAllister
Parents of children with limited mobility said they plan to use the playground on weekends and after school hours. School administrators said this was fine with them as long as everybody who uses the playground respects the equipment and the school's operating hours.
"Here, everything is inclusive to everybody, so they can play together with their siblings and their peers," said Freedom Acres teacher Stephanie Brown. "For example, if navigating stairs is a struggle for one sibling, we have a ramp. With the merry-go-round, we can just drive a chair right onto it."
"That's the biggest thing in our house, we always say that everyone is equal and we're all the same," said Freedom Acres parent Hali Eveleth. "But then we go somewhere and it's like, OK, we're not all the same, we're not all equal. This place has stairs or this place has too many kids, and it can be hard."
Freedom Acres School has not had a playground at all for the past six years, when the old equipment was deemed unsafe. The only remnant of the old playground is a purple dinosaur they keep behind the building "like a statue," according to Miller. Thanks to that history of need, opening day was a memorable, emotional occasion for everybody who was there.
"The first day it opened, even our high school students were out here having a blast, all smiles and laughter, everybody was so happy," Brown said. "It was like, 'We finally have something else to do outside!' I have seen every classroom out here, and everybody is having a good time."
"On the first day it was open, the joy of all the kids on this playground was simply out of this world," Cavanaugh said. "It was just amazing. It still brings me goosebumps."
"Seeing that playground for the first time brought tears to my eyes," said Freedom Acres parent Brandy Durrant. "To have a place for my daughter to go that is designed for the way she can play is amazing. Our special needs kids have so many limitations and don't always fit into places designed for other kids, so to have a place where Emersyn can go and fully participate is something we've never experienced before."
"The very first day this playground was open, I picked up my kids and we came out here and just sat for a couple hours, playing," Eveleth said. "This has been wonderful and we are so happy to have this in our community."
"We have recess twice a day now," Cavanaugh said. "Before the playground we had recess, but it was usually limited to playing kickball or Frisbee."
"We've been out here taking advantage every day ever since it's opened," Brown said. "With winter coming, we want to take advantage of every single day we get."
Communication Quick Links